Tag Archive:
Fun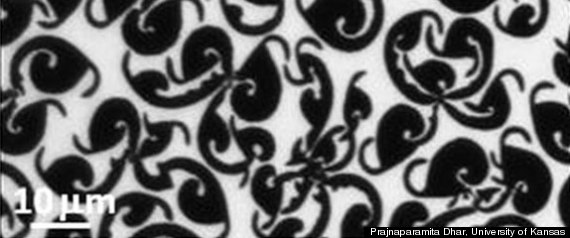 A beautiful black-and-white image that looks like the pattern on a scarf isn't the work of an upscale French designer. It's the stuff that lines your lungs.
The snapshot is a microscopic image that used fluorescent dye to reveal the patterns made by lung surfactant, a soaplike material that covers the inside of the lungs. Without surfactant, the lungs would collapse.
"During the breathing cycle, as your lung is compressed, it will form this pattern," said Prajna Dhar, the creator of the striking microscopic image. Dhar and her colleagues published the picture in January 2012 in Biophysical Journal. This March, the National Institute of General Medical Sciences featured the image in their monthly newsletter, Biomedical Beat.
The researchers took the patterned surfactant image as part of a study investigating how nanoparticles affect the body. Nanoparticles are particles so tiny they're measured in billionths of a meter. They're the subject of major scientific research right now, because engineering on a nano-scale allows scientists to literally build materials atom by atom, like this world map one-thousandth the size of a grain of salt. Nanotechnology is being used to develop everything from nano-scale solar cells to medicine delivery systems.
The explosion in technology has led to concern that nanoparticles might harm human health, Dhar told LiveScience. The question is whether the tiny particles are toxic or not.